'Kanza Khan, professionally known as Ayeza Khan (born 15 January 1991), is a Pakistani actress and model, primarily working in Urdu Television. She has received several accolades including two Lux Style Awards, three Hum Awards and a PISA Award.
Ayeza Khan is Pakistan's one of most popular actresses in the entertainment industry. With her delightful performances, she has grabbed everyone's attention with her iconic characters and acting skills.
Over 30 roles and nominated for several awards including the Lux Style Awards, Hum Awards, and Pakistan International Screen Awards.
Pyarey Afzal is one of the most famous dramas, but her Mere Pass Tum Ho has crossed every TRP record that even got famous in neighboring countries as well.
Her career is full of colors because she's not just an actress but also a model and wife of a handsome actor Danish Taimoor.
People might have some serious questions regarding Ayeza Khan's age and Ayeza Khan's net worth. So, today we are going to explore her life.
Ayeza Khan Early & Personal Life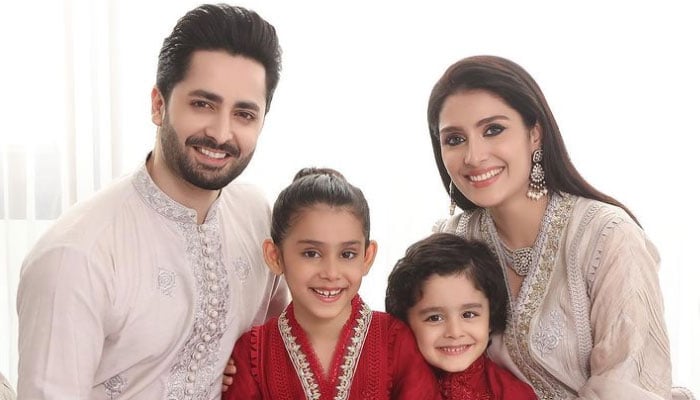 Karachi, Pakistan. Now come to Ayeza Khan Education, she completed her intermediate education at Newports Institute of Communications and Economics, Karachi, Pakistan.
However, she did not pursue higher education as she started her career in the entertainment industry at a young age.
Ayeza Khan's married life was somehow idolization by various couples because she took one of the most handsome men in the Pakistani entertainment industry Danish Taimoor.
She got married to actor Danish Taimoor on August 16, 2014. The couple met on the sets of a drama serial and fell in love. They got engaged in 2013 and tied the knot the following year.
Ayeza and Danish have been very vocal about their love for each other and often share pictures and posts about their married life on social media. They have two children together, a son named Rayan Taimoor and a daughter named Hoorain Taimoor.
The couple has also appeared together in various dramas and shows, including the popular Ramadan transmission shows "Jeeto Pakistan". They are considered one of the most loved and admired celebrity couples in Pakistan.
Ayeza Khan's Career
Ayeza khan Dramas:
Tum Jo Miley as Shehna TV debut
Larkiyan Mohallay Ki as Sumera
Tootay Huway Per as Ajiya
Maaye Ni as Sania
Mi Raqsam as Sadia
Sasural Ke Rang Anokhay as Maya
Zard Mausam as Aiman
Mera Saaein 2 as Noor
Aks as Zoonaira "Zooni" Javed
Kahi Unkahi as Zoya
Adhoori Aurat as Maryam
Saari Bhool Hamari Thi as Areesha
Ghalti Se Mistake Hogai as Batool
Pyarey Afzal as Farah Ibrahim
Do Qadam Door Thay as Nayab Iqbal
Mere Meherbaan as Haya Baseer
Jab We Wed as Nisa
Bikhra Mera Naseeb as Hina Alvi
Tum Kon Piya as Elma Ali
Shehrnaz as Shehrnaz Gul
Mohabbat Tumse Nafrat Hai as Maheen Aurangzeb
Toh Dil Ka Kia Hua as Maya Naamdaar
Koi Chand Rakh as Dr. Rabail/ Rabbi G
Yaariyan as Zubiya Hamid
Meray Paas Tum Ho as Mehwish
Thora Sa Haq as Seher Zamin Ahmad
Mehar Posh as Mehrunnisa (Mehru)
Chupke Chupke as Muniha (Meenu)
Laapata as Geeti
Chaudhry and Sons as Parisa "Pari" Ahmed
Chand Tara as Tara
Mein as Mubashira Jaffar
Ayeza Khan becomes first Pakistani actress to reach 12mn followers on Instagram – Minute Mirror
While studying in school she participated in a contest "Pantene Shine Princess" and she came out as the first runner-up.
Acting somehow is in her blood from the very early age of her life. She began her acting career in 2009. Since then, she has appeared in numerous hit drama serials and has established herself as one of the leading actresses in the Pakistani entertainment industry.
Some of her most popular drama serials include "Pyarey Afzal", "Mere Meherbaan", "Tum Kon Piya", "Yariyan", "Koi Chand Rakh", Mohabbat Tumse Nafrat Hai and "Mere Paas Tum Ho". She has received critical acclaim for her performances in these dramas and has won several awards for her acting skills.
Her acting skills have always attracted everyone, she even recreated Late Sri Devi's iconic dance "Mere Hathon Mein" and won fans' hearts.
Ayeza Khan is known for her versatility as an actress and has portrayed a wide range of characters, from innocent and sweet to bold and strong-willed. She is also admired for her beauty and grace and has been featured in various fashion magazines and advertisements.
Ayeza Khan has positively been the center of attention, her beauty has always grabbed everyone's attention and even at one point she revealed the secret of her beauty "less makeup".
You all might have not seen Ayeza Khan on screen for a very long time. People have thought that she had quit acting, but she later revealed that "Fans are asking me what am I doing these days?" she wrote. "I'm taking care of myself. I take a break from my work so my skin can breathe, my hair can rest and I can read your messages and reply."
Ayeza Khan out of nowhere took a break from acting and started focusing on herself. After long years of hard work, the actress decided to have some precious Me-Time and that helped her as well.
Awards & Achievements
Ayeza Khan Makes It To The List Of World's Most Beautiful Women
Ayeza Khan has received several awards and nominations for major awards for her outstanding acting:
In 2013, she won the Hum Award for Best Actress for her role in the drama serial "Pyarey Afzal."
In 2015, she won the Lux Style Award for Best Actress (Satellite) for her role in the drama serial "Pyarey Afzal."
In 2019, she won the Hum Award for Best Actress Popular for her role in the drama serial "Mere Paas Tum Ho."
she won best female Actress award for chupke chupke.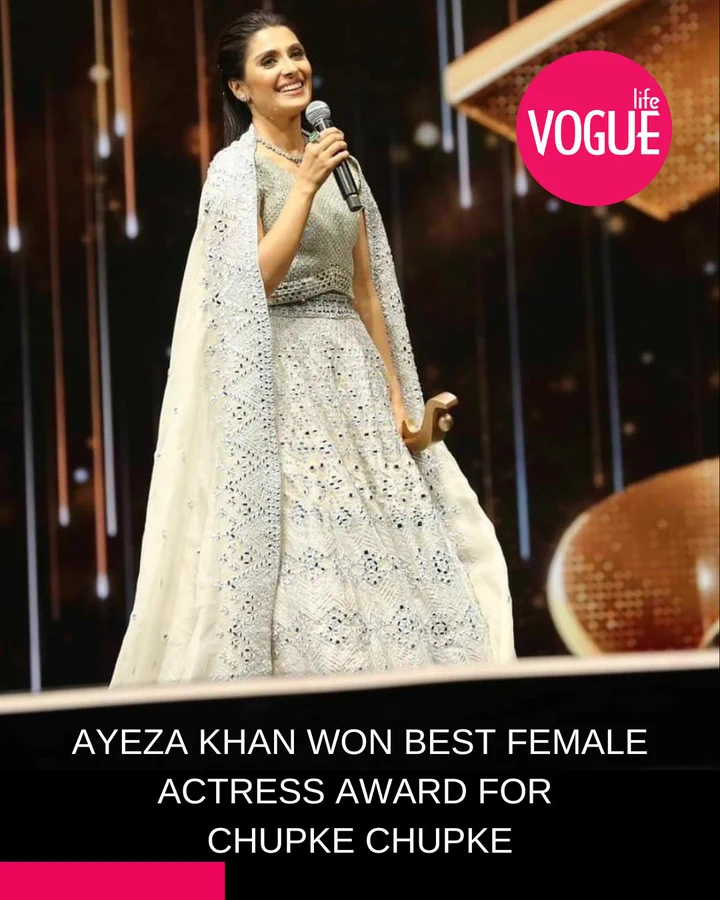 She has also been nominated for several other awards, including the Lux Style Award, Hum Award, and Pakistan International Screen Awards.
In addition to her acting career, Ayeza Khan has also worked as a model and has won awards for her modeling work, including the Lux Style Award for Best Model (Female) in 2016.
These are just a few of Ayeza Khan's notable achievements in her career so far. She is considered one of the most popular and talented actresses in Pakistan's entertainment industry.
Ayeza Khan's net worth is one of the biggest questions that fans want to know and as per expected to be $9 Million as of 2022.
Her on-air drama is MEIN on ARY Digital and it is making a record history with her fabulous charm. she made a cute pair with Wahaj Ali.