'My Father Is A Survivor,' Says Ali Sadpara's Son As Pakistan Waits For A Miracle
"The last time I saw my father was on February 5. We were on our way up the K2 mountain when I had to turn back 8,200-meters into the journey due to an equipment glitch. But my father was motivated and ready to continue," said the proud son of Muhammad Ali Sadpara.
The 20-year-old told Geo TV in an interview that his father was excited to become the first Pakistani to summit the unclimbed K2 mountain in the winters.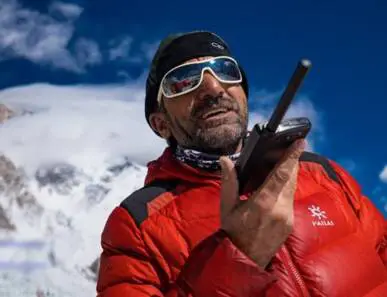 "Before I left him that afternoon, he said, pointing to the mountains around him, 'God has given Pakistan a beautiful gift. Which is why we, Pakistanis, should be the first to climb this peak.'"
Sajid said, "It has been four days today. No one has seen my father since that day. He is up there somewhere, 8,000-feet high. But, to be honest, I am still hopeful of his return. My father is a survivor you see. He always has been."about:blank
"When he was born in 1976, in the remote village of Sadpara in the mountainous Gilgit-Baltistan, no one thought he would live. My grandmother had given birth to 11 children, of whom only two had survived, a son and daughter."
Harsh weather continues to thwart search operation on K2
Pakistan's Sadpara, 45, John Snorri, 47, of Iceland, and Juan Pablo Mohr, 33, of Chile, were last seen Friday around noon at what is considered the most difficult part of the climb: the Bottleneck, a steep and narrow gully just 300 meters shy of the 8,611 metres (28,251 ft) high K2.
The spot is just above the ceiling of helicopters, which have been searching for three days now
Sadpara, one of Pakistan's most celebrated climbers who had ascended eight of the world's highest mountains, was accompanied by his son Sajid.
He told reporters on Sunday he waited overnight at a camp just below the Bottleneck, believing the three had summitted and would be coming down.
"I kept the light of my tent on at night thinking they would see it when they return," he said.
"I think if they search for the bodies it makes sense to continue the operation, but their chances of surviving, if you are at 8,000 (meters) in winter for two or three days, a person's chances of surviving are next to none," Sajid has earlier told the media.
According to Dawn, an Inter-Services Public Relations (ISPR) official said the search and rescue mission for the three climbers will continue on Tuesday once the weather improves and all resources at the disposal of the military have been mobilized.
All air and ground efforts are being used as the search and rescue mission enters the fourth day. But he added that "no stone will be left unturned" and that the search will continue.
Pakistan is waiting for a miracle as we cannot afford to lose hope. Meanwhile, a video of Sadpara singing and dancing to 'tum chalay aao paharon ki qasam' is also breaking our hearts.